StartGame
Game access | Creating a game room | Creating a chat-room | Mission | Changing primary weapon
Checkbook | Setting | X-SHOT MIC. System | Switching ON-OFF other players voices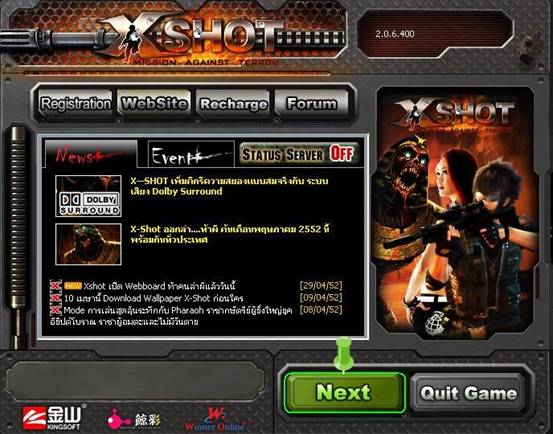 Click "Next" to download patch. Once it is 100% complete click "Start".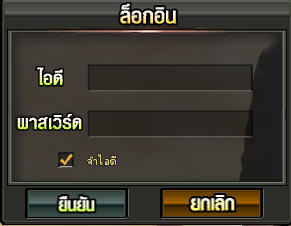 Input "ID/Account" and "Password", then click "Confirm" to access the game.
**Note: "Remember Account" function is not recommended when playing elsewhere.
After logged in choose your desired Server and Channel. You will be transferred to the waiting room [Lobby]. Please follow instructions shown in below pictures.
Quick access, you will randomly access any available rooms.
Enter room, manually choose the room to access.
Create room, create a new room, you will have full authority to modify the room setting.
Search, search for players or desired rooms by typing player name or room code.
Create chat-room, create a chatting room where X-SHOT players can relax doing chit-chat with others.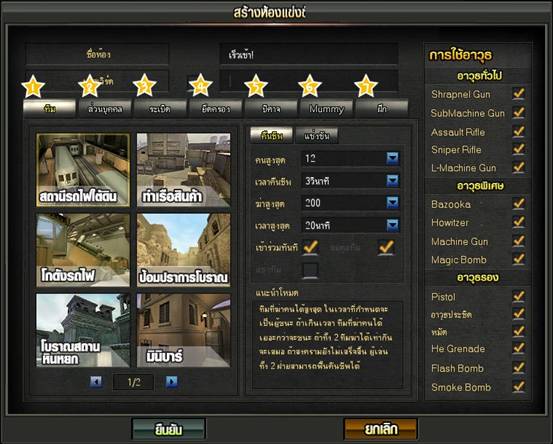 You can create a room and setting its mode from one out of 8. You will have full authority to modify the settings of the room you created, number of players, time limit, kills, spawn and re-spawn time, etc.
1.. In the waiting room, click "create chat-room".

2.Set number of players to be allowed an access to the room and "Confirm".

3.In boxing mode, converse with NPC name "Boxing Honey" besides the boxing ring and click "I am ready".

no.1, once we are ready for boxing, press "we are ready".

no.2, you can check the rule by pressing "check boxing rule".

4.When you see "boxing gloves" above the character head you are already in the system.

5.Get ready and wait for challenger.

6.The first to win 9 rounds is a winner.

The search window is a 2 player search and search of a room. Is the one we can put the name of the player you want to search into, and then press confirm.

The second competition is to find room by room, we need to know code. Put and then press confirm.

You can challenge variety of mission right from the waiting room.

Once you enter, you will find your available mission as shows in number 1. The mission is related to player level. Number 2 is the mission that player must complete it. After player completed the mission, at number 3, the status will change to be mission completed. After that player can get the mission awards by pressing the button at number 4.

After pressing the button, it shows system message as shows in the picture. Press to confirm and go to your mailbox to recieve the award.

Once you go to your mailbox, please follow the step to receive your award.

Press inbox.
Choose system letter. You will notice the sender must be "System".
Press receiving award.

**Remark: Already read letters can be deleted by clicking "delete" button below.

Primary weapon can be changed as many as you have in your storage.

No. 1 Switching to chosen weapon on next round or next re-spawn.
No. 2 Give up one life [a round] and have weapon switch right on the re-spawn.

1.. Double click the checkbook icon.

2.Dates ticked in red are dates you have participated in the game. You will receive participation point 5% for each day you have participated. The higher points you have the more it benefits you.

No. 1 Check this month participation No. 2 Check last month participation

Set game options, controls, video, sound, etc.

Controls – Configure control buttons according to player preference. Controls can always be switch back to their original setting by clicking "Default".

Video – Players can set video display details, brightness, and shadows, even screen size and resolution. Settings can be converted back to their original by clicking "Default".

Sound – Can be set freely according to player preference. Settings can always be turned back to original by clicking "Default".

Personal setting – Several minor details can be set to player preference. Settings can always be turned back to original by clicking "Default".

Quick chat – You can preset several keys short conversations saving time from typing them. Presets can be converted back to their original by clicking "Default".

There are 2 significant functions in X-SHOT MIC. System

1.Team chat: "Caps Lock" button.

2. All chat [shout]: "K" button.

The speaking characters will have a speaker sign shown above their heads.

Tube sound is on the chat box.

Team chat

Hold "Caps Lock" key to make a chat or a talk only within your team.

**Note If you press "K", a All chat, and then press the "Caps Lock" all the chat team will not be closed before press "K".

All chat

Press "K" just once to chat with all players in the game. Press "K" button again to deactivate the "all chat".
** "All chat" must be deactivated to do the "Team chat".
**Voices and sounds of/from other characters will be displayed realistically, clarity, loudness, and directions.

Players can press "Esc" to call up the menu window to manage the MIC system, select any player you do not wish to hear his/her speaking, check for basic information, add or remove friends, while playing.